After graduating with a social work degree in 2016, Daniel Wilding spent five years as a community mental health practitioner in outreach, community mental health, recovery and forensic settings. Today, Daniel is a senior mental health practitioner with Devon Partnership NHS Trust's home treatment team. Here, he reflects on social work's challenges, aspirations, and the profession's meaning for him.
Daniel, please tell us what social work means to you.  
Social work has multifaceted personal, professional, national and international meanings, but to me, social work is a transformative profession, and I can relate to that personally and professionally. I did support work for eight years prior to becoming a social worker, and my route in to the profession has certainly been transformative. From a mental health practitioner's perspective, we come into people's lives as guests at times of crisis. We work hard to get alongside them, and help them make positive changes, restore their wellness and transform their own lives.
I think there will always be a place for social work and our experiences through the pandemic have proven that. We've seen retired social workers, or social workers who had stepped back from the profession for a period of time, come back to the frontline to help others. And now thinking about the current situation in Ukraine, there is an ongoing need for an international response from social work.
Please share your reflections on the last year.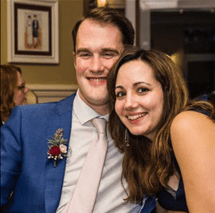 In the last year we've had to adapt to lots of new ways of working and quickly; I remember when the team and I first started meeting via digital platforms, we felt totally bewildered, but now we're experts by experience. I think the need to adapt quickly has been the case for the social work profession and society as a whole; no matter what you do in life, we've all been affected by the onset of the pandemic.
Personally, one of the achievements I am most proud of in the last year is being a finalist in the Mental Health Social Worker category at the Social Worker of the Year awards. I really enjoyed being part of such a huge celebration of the social work profession, to hear different professionals' stories and listen to the Manchester Survivors Choir. The last 18-months have been difficult, and there have been times when I've questioned why I do it, but moments like the Social Worker of the Year awards really affirm my passion for social work, and I'm proud of our profession for making it through the pandemic.
Another achievement I am proud of is being interviewed in the inaugural episode of a new podcast called Social Work Moves (listen here). With humility, it is a privilege to see the views continue to grow organically for a mental health awareness-raising film I participated in for mental health charity Mind, with Magneto Films, called 'Mental health and physical health go hand in hand' (watch here), which is helping to spread the important parity of esteem message.
I'm also proud to have progressed in my career; I'm a senior mental health practitioner now and I'm really enjoying the role. It really is a privilege to come into people's lives for a period of time; every day is different, I'm constantly learning, and coming across new opportunities. I'm hoping that my contribution to Social Work Week will in some small way inspire the next generation of social workers.
What's next for social work?
I think a collective response to the situation in Ukraine is pressing for the profession; we have an opportunity help the humanitarian effort and demonstrate our value internationally. It's also important that we as individual practitioners support people affected by the conflict in whatever way we can, whether that's through social media, or providing direct support to people affected.
Please share your thoughts on this year's World Social Work Day's theme: 'Co-building a New Eco-Social World: Leaving No One Behind.'
This year's theme for me goes back to us remembering our value of equality, and thinking about how we remember and embed equality in our everyday work. Clearly we need to be aware of the bigger picture going on in Ukraine and Russia at the moment; the decisions being made in Russia seem to run counter to the concept of equality and I think it's important that we as a profession champion equality in our response.
There are several thousand of us here in the UK, more across the world, and I am pleased that the literature published by our various organisations communicates the importance of contributing to a sustainable social world both now and in the future; it really resonates for me with the conflict in Eastern Europe right now.
Thank you Daniel for sharing your thoughts with us.
Click to follow Daniel on
Find Daniel on
Instagram @danielwild1ng

TikTok @danielwilding52