Rachael Butler always knew she wanted to work with adults in mental health and in 2020, she qualified as a social worker. Rachael is employed as a mental health practitioner with Devon Partnership NHS Trust's South Hams and West Devon Older People's Mental Health Team and is completing her assessed and supported year in employment (ASYE).  Here, she reflects on social work's challenges, aspirations, and the profession's meaning for her.
Rachael, please tell us what social work means to you.  
The thing I love about social work is that we look at people holistically.
Within my team we've got nurses and occupational therapists, and I am the only social worker. Our team is medically-orientated, but I get to bring the social work perspective. I think as social workers we are encouraged to consider all aspects of the person's life; the medical model and pharmacological sides are important of course, but we are thinking what else could be going on, how can we improve the person's wellbeing with meaningful activities, how can we help them develop a sense of purpose, get good nutrition, how can we make them more comfortable?
When I told others I was studying to become a social worker they were mostly shocked; often people have a very limited view of what social work is about, and I really want to do my bit to change the perception of social work.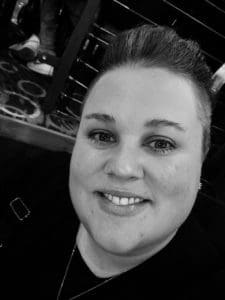 Please share your reflections on the last year.
I started my job on the same day as my ASYE. My Covid-19 assessment categorised me as someone who should work from home, so like many other social workers who started during the pandemic, a large bulk of my year was spent on the phone and on video calls; I've only recently begun to see clients face to face.
This was really challenging at first, it felt unnatural, almost like I didn't really have a job, so it was a big adjustment; as a social worker, you want to see people in their homes or care homes, so that you can learn from all of those observations that go beyond words. While it was challenging, it did force me to build confidence and helped me on my way to becoming an autonomous practitioner quicker than I may have done otherwise.
What's next for social work?
I'm about to complete my AYSE and I'm really looking forward to seeing where that takes me but I really appreciate the role I'm currently in. My team is really open to the social work perspective, which makes me feel valued; I really enjoy my job.
I'm keen to do what I can to represent the breadth of the social work role; I plan to start doing monthly bitesize presentations in team meetings, looking at the subjects that people might be aware of but don't necessarily think about in relation to their work. I recently delivered a presentation about cultural competence and humility, and my team really appreciated this insight from the social work perspective. I think that's really important, that we all do our bit to encourage people to think about their values, their ethics, and take time to reflect.
My manager says how positive it is for the team to have a social worker present, that it makes a big difference, and I would like to see a move towards multidisciplinary teams generally across the board.
Do you have any reflections on this year's World Social Work Day theme: 'Co-building a New Eco-Social World: Leaving No One Behind?'
We have and always will work with people affected by socioeconomic factors, but the environment is not something that is really present in my day-to-day role. On a more personal level, the pandemic has brought hybrid working to the forefront which I think is really positive; social workers don't really need to be in an office all the time. I don't drive and I was conscious this may limit my career possibilities, especially in a rural area. Hybrid working feels like a really positive step for me, as well as being better for the environment; hopefully more employers will be receptive to this way of working too.
Thank you Rachael for sharing your thoughts with us.
Connect with Rachael on LinkedIn here.