IIP is a global people management standard, with more than 50,000 organisations, across 75 countries, assessed in the last 30 years. The IIP Standard uses nine performance indicators and a four-stage performance model to evaluate an organisation's ambition, and its approach to leadership, support and improvement. Platinum accreditation demonstrates that organisational leaders take accountability for delivering consistently positive results, with an eye on improvement and the future, and people-orientated principles and practices are fully integrated; IIP expects just 0.5% of organisations to achieve its Platinum level.
Areas of strength
S12 achieved a 100% response rate in 2019 and again in 2022 for the online survey part of IIP's assessment, described by the IIP assessor as a 'phenomenal result,' confirming what 'a special place S12 is to work.'
S12 ranked high performing, the highest level of achievement, for leading and inspiring people; living the organisation's values and behaviours; empowering and involving people; managing performance; structuring work; delivering continuous improvement; creating sustainable success.
IIP assessor, IIP Feedback Report: "There are excellent levels of collaboration and cooperation. I fully agree that policy and practice facilitate collaboration, however I also believe the excellent result for this indicator [structuring work] speaks as much to the culture of the business as it does its structures. The culture is inclusive, everyone is important. Everyone has a voice and people support each other to get the job done."
Additionally, 100% of the team agreed that S12 embraces change and has a plan for the future; both statements belong to the creating sustainable success indicator's criteria, for which S12 achieved its highest score. IIP assessor, IIP Feedback Report: "It can only be said that the online survey results for this indicator reflect how your people believe and feel in terms of S12's approach and delivery of sustainable success […] I pursued this further during my discussions as I wanted to establish the reasons behind such amazing 'strongly agree' scores. I wasn't disappointed and commend S12 for not only their focus on the future but the impact they have on the communities they serve."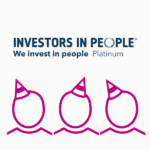 Influential values
S12's vision is to help mental health professionals efficiently complete Mental Health Act processes, allowing them more time to focus on what they do best: supporting the person. We work on this vision in line with our values: authenticity, care, compassion, dedication and energy. Online assessment results revealed that 100% of the team trust S12's leaders and believe their behaviour reflects the organisation's values, described by the IIP assessor as an 'exceptional result.'
IIP assessor, IIP Feedback Report: "The energy within the organisation is limitless. The compassion, care and dedication of leadership and your employees to do what you say you will do and always keep improving reinforces your incredibly strong culture of 'making things happen.'"
S12's response
Tim Webster, Operations Director: "We're really proud. Every person on our team has contributed to this achievement. In my view, it's care that makes S12 an amazing place to work; every person here cares about the team around them, and the people and professionals we're here to support."
Amy Manning, Founder and Manager Director, continues: "A lot has changed since we achieved Gold accreditation in our last assessment in 2019. Like everyone in health and social care, we had to find our way through the Covid-19 pandemic, and our team has also adjusted to life as part of the wider VitalHub family. It's great to see so clearly via the IIP process that our team has emerged from these changes even stronger and more unified than before."
IIP's response
Paul Devoy, CEO of IIP, said: "We'd like to congratulate S12. Platinum accreditation is a remarkable effort for any organisation, and places S12 in fine company with a host of organisations that understand the value of people."
IIP assessor, IIP Feedback Report: "You have truly embraced the Investors in People Framework and have provided effective people management and development to achieve high levels of engagement, which has in turn delivered higher levels of performance overall and has enabled you to drive your mission and vision forward […] I have been blown away by the passion, dedication and creativity of your people and experienced several goose bump moments leading up to and during this review."
For more information
Get in touch with S12: Contact S12 Solutions
For more information about IIP: Visit the IIP website